Josel and Cory Bond Over Basketball and Good Communication
Josel Fortaleza has a lot on the go. He's a wedding photographer, a church pastor, and a father to a young toddler—but even with his busy lifestyle, working as a Direct Support Professional (DSP) has been a perfect fit.
With on-the-job training and a flexible schedule, Josel could dive right into DSP work without having to complete additional schooling. While the job's flexibility is certainly convenient, the benefits reach far beyond this for Josel. DSP work has helped him develop valuable people skills he can apply in all areas of his life and career.
"I've become a better communicator in this line of work and my other areas of business," says Josel. "Understanding people a little bit more… even just connecting with people. And really good communication. Those areas have helped me in my other lines of work."
Josel supports a few different people with lived disability experience in Winnipeg through his DSP role, and he's developed an especially close bond with a man named Cory. Cory has Down Syndrome, and his fun-loving nature ensures it's never a dull moment when he and Josel get together. They love playing pool, listening to music, shopping, hanging outside, playing basketball, and even singing karaoke.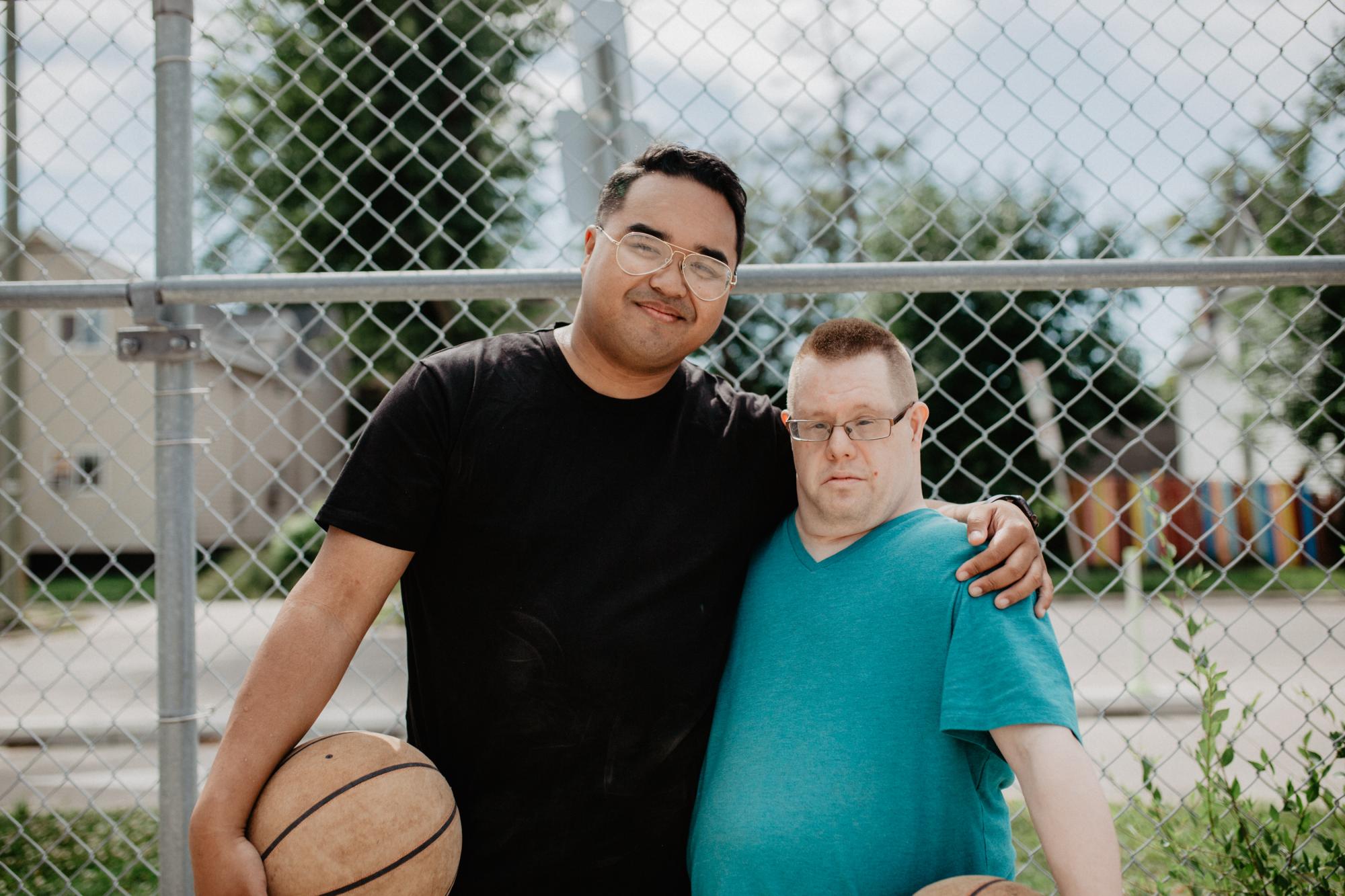 "My relationship with Cory is fun. We like to tease each other and joke around a bit. But we also like to challenge each other to be better. If we're doing something we both enjoy, I'll give him a few pointers here and there. And he'll give his thoughts and feedback, too. We like to do a lot of fun stuff together. Cory is a very silly guy. I think those are his main qualities—the fun, energetic guy is always there, day in and day out," says Josel.
Cory can manage a lot of his personal care independently, but Josel provides support in areas of his life requiring more planning and organization. At the start of each week, they plan out their calendar and Cory's budget for food and activities. They each suggest ideas for things to do, and it's an opportunity for them to try new things.
"Tuesday, Thursday, and Saturday, I go out with him. We go downtown, to Tim's—sometimes he plays basketball with me. He's a nice guy. I'm a better basketball player now. He helps me with anything I want," says Cory.
When building a connection with someone you're supporting, Josel says DSPs should approach it just as they would with any other relationship. Try to find common ground and shared interests, and focus on ways to have fun together. For Cory and Josel, their love of sports was an instant connection point.
"In team sports, you go to an open court, and you have a lot of different people there that you've probably never met, and you find a connection with the sport that we all love. I think that's a really special thing to be able to do that together. I found that with Cory. Both of us having a love for basketball has helped us grow and develop our relationship because we have that common ground. We can talk about the last Raptors game or the latest news in basketball. We find connection there," says Josel.
Cultivating a genuine working relationship was easy between these two fun-loving folks, and now, Josel continues to help Cory build friendships with the people around them. He recently introduced Cory to Jennifer, another person he supports.
Cory instantly took a liking to Jennifer, so, as any good DSP would do, Josel took on the role of wingman. They worked on building up Cory's confidence so he could ask Jennifer out on a date, and for the past few weeks, they've been going out together.
"I have a girlfriend now!" Cory says with a grin.  
About Direct Support Profession Manitoba
Direct Support Profession Manitoba is a recruitment campaign led by Abilities Manitoba and funded by The Government of Canada – The Manitoba Government. There are over 90 service providers that provide direct support to individuals with disabilities in the province, whether at work, at home, in a day program, at school or in the community—all of which could use your talents. To learn more about becoming a Direct Support Professional or to begin the first steps of your application process, visit here.
For more information about the Direct Support Profession campaign, please contact: Abilities Manitoba at info@abilitiesmanitoba.org.
What is a Direct Support Professional (

DSP

)?
You may see the job title change—from Support Staff, Respite Worker, Home Staff, Day Program Staff, Employment Specialist, Key Worker or otherwise—but the goal is always the same: a Direct Support Professional offers necessary support to help people with disabilities thrive—at home, work, school, or wherever life takes them.
You're along for the ride, ready to help the person you support overcome challenges and barriers, celebrate successes, navigate good and bad days, and grow. From tasks like meal prep or personal care like hygiene, to exploring the city or visiting friends, you're there to help them navigate their lives and build skills and independence.